Feature
Rugged heavily ribbed Meehanite casting construction.
1070mm or 1270mm swing x 1750, 2250, 3250, 4250 5250mm or 6250 mm between center.
Fagor 8055i TC control Operate in Manual, Semi-automatic or full CNC G code modes.
Spindle power - spindle motor ratings are 30 HP or 40HP as an Options.
Extra wide (24") induction hardened and precision ground bed ways.
Turicte-B coated on carriage sliding ways for smooth, stick slip free movement.
Precision hand scraped for all mating sliding surfaces and gibes.
Hardened & Ground ball-screw with preloaded double nuts, fitted on 60° Xangular contact bearing.
Large 155mm bore rigid spindle mounted on precision taper roller bearing for heavy cutting.
4 infinitely variable speed gear ranges with auto shifting for fully programmable spindle speeds.
FAGOR AC servo axes motors and drives provided high performance.
Portable electronic hand wheel with axis jog control allow for manual operation.
Automatic lubrication to all sliding surfaces and axes ball-screws.
Flood coolant system and Halogen work light are as standard.
All electric component are built-in an enclosure cabinet and main disconnect switch.
Wide range of options including: turrets, hydra. Chucks and steadies, C axis with 'Live' tools, chip conveyor, etc.
Every machine before shipping is inspected by Laser calibrated and cutting and coolant testing and Undergoes a rigorous 48 hours non-stop running.
Rugged heavily ribbed Meehanite casting construction.
Rigid construction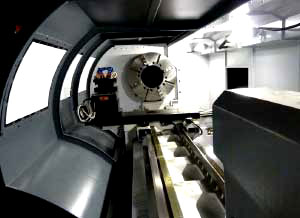 +++Geared Headstock
+++The Spindle & gears are made of CR-MO alloy steel which are carburizing & precisely ground, forced lubricating & oil bathed combined in headstock which can be prolonged servicing life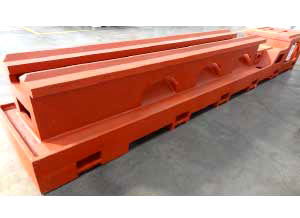 +++Rugged heavily construction
+++Rugged heavily ribbed cast iron bed constructed, with hardened and ground Turcite-coated bed and saddle guideways for high accuracy and durability.
Specification
KL-4260 / KL-4280 / KL-42120 / KL-42160 / KL-42200 / KL-42240
CAPACITY

Swing over bed
42" (1070mm)
Center height
550 mm (21.65")
Swing over cross slide
750mm (29.52")
Swing in gap (Option)
1570mm
Length of gap
570 mm
Distance between center
68.9" (1750mm) ~ 246" (6250mm) in 40" increments

WORKPIECE WEIGHTS

Max. weight at headstock
2,000 kg
Between centers unsupported
5,000 kg
Between center w/1 steady rest
6,500 kg
Between center w/2 steady rest
7,000 kg
Small closed steady rest (Opt.)
Ø150 - Ø 380 mm
Large closed steady rest (Opt.)
Ø 300 - Ø 550 mm or Ø 550 - Ø 800 mm

HEADSTOCK

Spindle bore
155 mm: std.
Ø230 mm ,Opt
Spindle center
Ø155mm(6") : MT#5 ; Ø250mm/Ø305mm / Ø410mm : MT#6
Spindle Nose
A2?11 (Std.)
A2?15 (Opt)
Spindle range
3
Spindle
speed
(rpm)
1-range
5 - 15
4 - 13
2-range
16 - 120
14 - 105
3?range
121 - 610
106 - 500

BALLSCREW

Z axis ball screw
Ø80 x P20 (Planetary gearbox reducer 1:10)
X axis ball screw
Ø40 x P8

CARRIAGE

Cross slide width
340mm
Cross slide travel
650mm

BED

Bed width
24" (610mm)
Z axis travel
1750 / 2250 / 3250 / 4250 / 5250 / 6250 mm

TAILSTOCK

Quill taper
MT#6
Quill diameter
165 mm
Quill travel
300 mm

ACCURACY

Positioning accuracy
± 0.01mm / 300 mm
Repeatability accuracy
± 0.005 mm
Main spindle motor
30HP (22.5kw) - Standard, 40HP(30kw) - Option
Coolant pump
1/2 HP - Standard, 1-1/2 HP(High pressure - option)
Power required
40 KVA
Machine weight (KGS)
10500 /11300 /12600 / 14200 / 15800/17500
* The above specifications subject to change without prior notice.