Feature
Product Features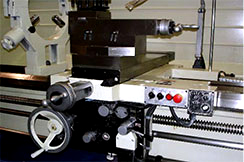 Carriage & Apron:
The cross slideways are hardened and ground,the saddle slideways are covered with Turcite to reduce friction.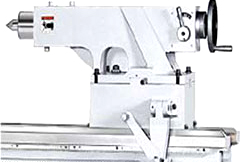 Tailstock:
A heavy-duty casting design for maximum rigidity to support work pieces or tooling. With MT#5 taper,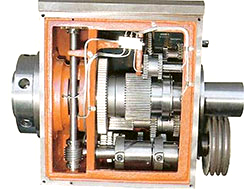 Headstock:
Gears in the headstock are made of chromium molybdenum steel (SCM-21), treated by cementation then precisely ground to provide smooth and quiet running. The spindle is supported by precision taper roller bearings.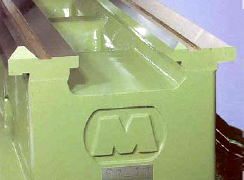 Bed & Bedways
The extra-wide 450mm bed is constructed of Meehanite casting for maximum rigidity, The pre-stressed bedways are induction heat-treated and ground for ware resistance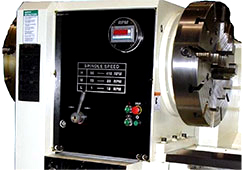 DOUBLE CHUCK (Option)
Double-chucks capability, the spindle can be equipped with a second chuck in the rear end of the spindle to support long work pieces.
6", 9", 10", 12" Spindle bore available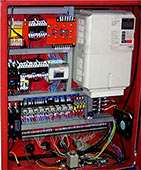 EV series
Inverter Drive for variable speed
3 gear speed ranges
Electronic control panel with rpm display, light indicator for high, mid and low speed ratio, speed control electric knob, emergency switch and motor start push button
Equipped with similar CSS function
Specification
KC-3380 / KC-33120 / KC-33160 / KC-33200 / KC-33240
* KC-3360

* KC-3380
* KC-33120
*KC-33160
*KC-33200
* KC-33240
General Capacity
Center height
385mm, (*420 mm)
Max. swing over bed
770mm, (* 840 mm)

Max. swing over gap
980mm opt., (* 1020 mm opt.)
Max. swing over cross slide
500mm, (* 570 mm)
Distance between centers
1600mm
2100mm
3100mm
4100mm
5100mm
6100mm
Main Spindle
Spindle nose
A2-11 (for KC-3000 or KC-3300)
Spindle bore
105mm (Standard for KC-3000 or KC-3300)
155mm (6") (for KC-3000 or KC-3300) (opt.)
Spindle speeds (18 steps)
Ø105mm: 20 -1500rpm / Ø155mm:10~800rpm
Carriage
Gross slide travel
450mm

Compound rest travel

250mm
Tailstock
Tailstock spindle dia.

105mm

Tailstock spindle travel
220mm
Tailstock spindle taper
MT#5
Bed
Bed width
450mm
Threading
Lead screwl
2TPI or 12mm/pitch
Metric pitch threads
0.08-14mm/pitch (65 kinds)
Inch threads
2-28TPI(36 kinds)
Module pitch threads
0.5-7M(22 kinds)
DP threads
4-56TPI(36 kinds)
Feeding Range
Range of longitudinal feeds
0.05-0.7mm/rev
Range of cross feeds
0.025-0.35mm/rev
Motor
Main spindle motor
15HP (standard) / 20HP or 25 HP (opt.)
Rapid feed motor
1/4HP
Coolant pump motor
1/4HP / 1-1/2 HP (Option)
Net Weight Approx.
3500kgs
3850kgs
4350kgs
4850kgs
5350kgs
5950kgs
* Specifications are subject to change without notice