Feature
Product Features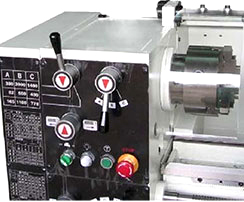 Headstock & Control Panel:
The BARONMAX Lathe is equipped with 3HP motor that fully geared heavy-duty headstock giving you a 9 spindle speeds. All gears are hardened and ground and run in a continual bath of oil. The spindle is made of forged, quenched and tempered steel, with a case hardened spindle nose and mounted on precision taper roller bearings. The easy-to-operate control panel is designed for efficiency.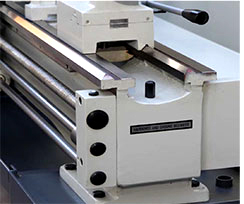 Bed & Bedways:
The extra-wide scientifically designed bed, with tapered cross braces for fast and easy chip removal, is constructed of stabilized cast iron with bedways hardened and ground to a hardness of 45 to 50 Rc. The bed is mounted on a rigid, fabricated steel base that is specially engineered to absorb vibration and ensure smooth, accurate operation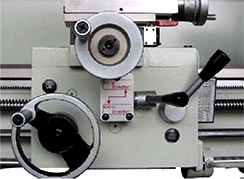 Carriage & Apron:
Controls are designed for easy operation to ensure maximum productivity. Easy-to-read dual inch and metric dials, and a 4-way tool post are standard.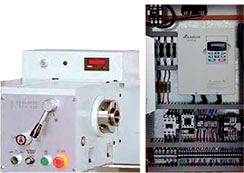 EV series
Electrical box show for Variable Speed Lathe
Inverter drive infinitely variable speed spindle system, easy spindle speed change by turning a knob on control panel and RPM-LED Digital Display
Specification
KC-1440 / KC-1440 EV
KC-1440
KC-1440VS
Swing over Bed
360 mm (14")
Swing over Cross Slide
225 mm (8 3/4")
Swing in Gap
520 mm (20 3/4")
Distance between Center
1000 mm (40")
Width of Bed

190 mm (7 9/16")
230 mm(9")
Spindle Nose
D1-4 Camlock
Spindle Bore
40 mm (1 9/16")
Taper of Spindle
M.T.#5 x MT#3
Spindle Speeds (9 Steps)
82 ~ 2000 RPM
Variable speed
35 - 2500 rpm
Inch Threads
4 ~ 56 T.P.I (32 KINDS)
Metric Threads
0.4 ~ 7.0 (32 kinds)
Longitudinal Feed Range
0.068 - 0.076 mm/REV (0.0016"~0.03" /rev)
Cross Feed Range
0.034 - .0468 mm /rev, (0.0008"~0.015" /rev)
Cross Slide Travel
165 mm (6 1/2")
Compound Slide Travel
100 mm (4")
Tailstock Quill Taper
M.T. #3
Quill Travel
100 mm (4")
Main Motor
3 HP 3ph
5 HP 3Ph
Coolant Pump
1/8 HP 3ph
Net/Gross Weight
700 kgs/1540 lb
Packing Measurement Approx.
1950*830*1600mm
* Specifications are subject to change without notice