Feature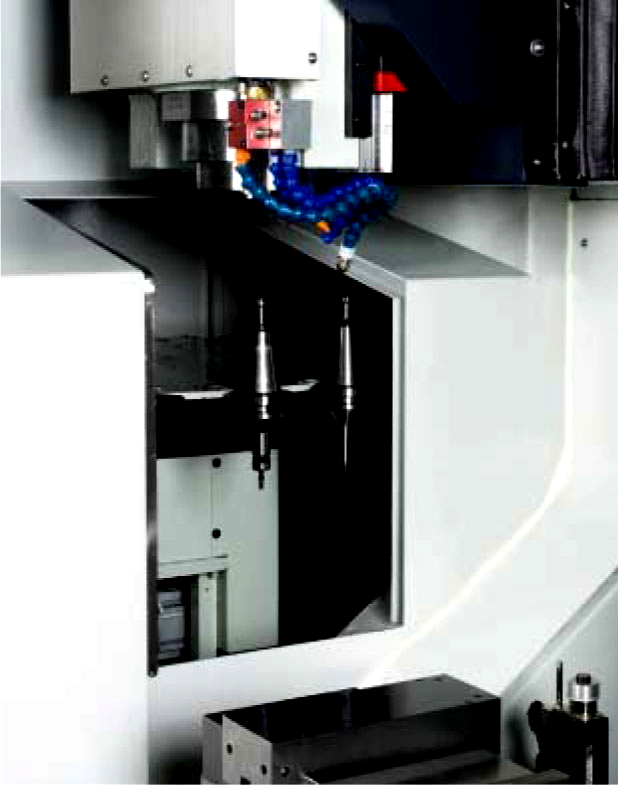 Automatic Tool Changer Disc-type Magazine
The automatic tool change system employs a fixed disc-type magazine.
Tool loading capacity is 20 tools.
The standard magazine is cam driven.
Magazine drive by servo motor is optional, which reduces tool-to-tool change time.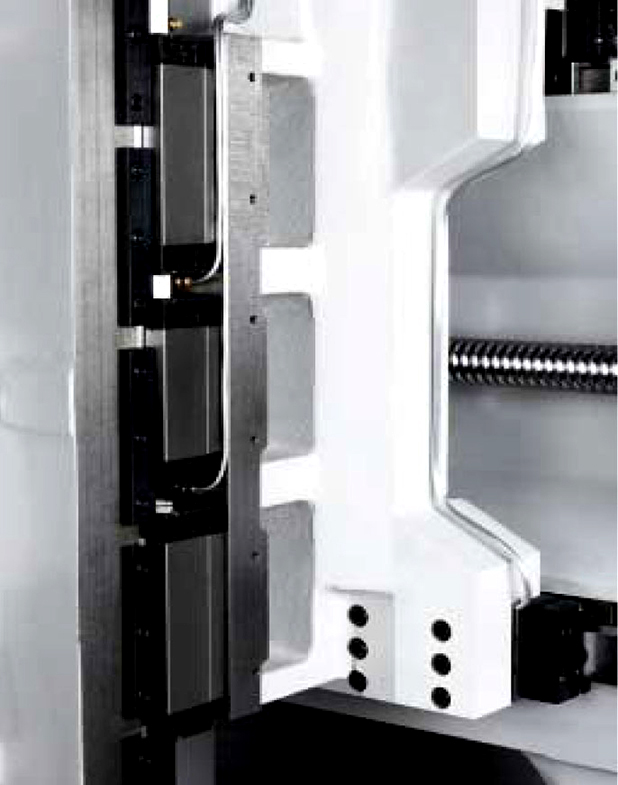 Outstanding Y and Z Axes Design
The spindle and saddle structure is specially designed for extra high rigidity and stability.
The saddle is equipped with roller-type linear ways combined with high loading 90 degree arrangement on two axes. This greatly upgrades stability, and make the spindle excellent for high speed cutting.
Three roller-type blocks on linear way with unequal distances arrangement, this assures high stability of cutting even when the spindle runs at the highest speed or at the lowest position.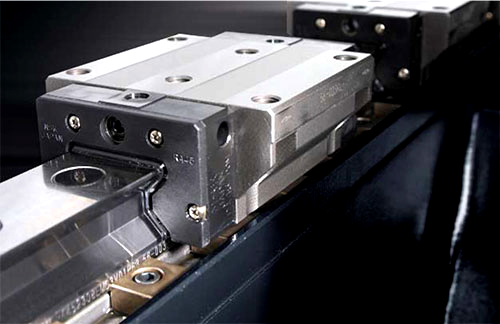 Heavy Duty linear Ways on Three Axes
Three axes employ high precision roller type linear ways with extra high loading capabilities.
The linear ways also feature outstanding rigidity, high motion sensitivity and travel accuracy. Maximum motion smoothness and stability
Rigid construction
Highly rigid construction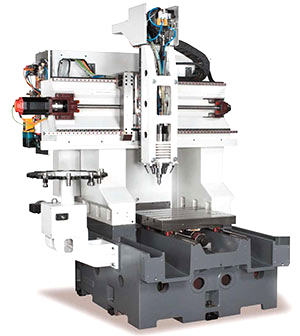 Specification
HSM-600GT / HS-800 / HS-1000
MODEL
UNIT

HSM-600 GT


HS-800

HS-1060

X axis travel
mm(in)
600 (23.62")
800
1000
Y axis travel
mm(in)
500 (19.68")
620
600
Z axis travel
mm(in)
350 (13.77")
400
500
Distance between spindle nose to table
mm(in)
100 - 450
150 - 550
150 - 650
Table Dimension (X - Y)
mm(in)
600 x 550
900 x 620
1200 x 600
Max. load capacity
Kg (lb)
500 (1100)
800 (1760)
1000 (2200)
T slot
mm
14 x 100 x 4
18 x 100 x 5
18 x 100 x 5
Taper of spindle nose
HSK-E40
HSK-E50
HSK-A63
Spindle speeds
rpm
30000
20000
20000
Drive power (S1 / S6)
Kw
10/11.5 Kw
18 / 23 Kw
11 / 18.5 Kw
Torque (S1 / S6)
Nm
5.4/7.1 Nm
29 / 36 Nm
31 / 46 Nm
Duty at speed
rpm
8,000
6,000
3,000
Lubrication
type
Grease
Grease
Mist
Rapid Feed(X/Y/Z)
M/min
30/30/24
36/36/36
36/36/36
Cutting feed rate
mm/min

1-20,000

1-30,000
1-30,000
X/Y/Z power of servo motor
KW
2.0 / 2.0 / 2.0
5.0 / 5.0 / 5.0
8.5./ 8.5 / 8.5
Tool type (DIN 69 893)
Type
HSK-E40
HSK-A63
Tool capacity
Pcs
20Pcs
20Pcs
20Pcs
Max. tool diameter
mm
O30mm
O60mm
O60mm
Max. tool length
mm
150mm
200mm
200mm
Max. tool weight
Kg
8kg
12kg
12kg
Type
Armless
Armless (Arm-type 30T Opt)
Tool exchange (T to T)
Sec
4sec
4sec
4sec
Pump power of coolant system
W
800
800
800
Air pressure request
1~5000
1~10000
Machine Power
32
40
50
Packaging size
cm
300 x 225 x 220
380 x 225 x 250
400 x 225 x 300
Floor plan
cm
210 x 190
275 x 215
310 x 260
Machine Weight
5,200
8,200
10,000
Positioning accuracy (VDI 3441) P

JISB6338 ±0.005/300 , VDI 3441 P0.025

Repeatability accuracy (VDI 3441) Ps max
0.002
Linear scale precision
±0.005mm
±0.005mm
±0.005mm
Control system

SIEMENS 828D / Mitsubishi M70
* Specifications are subject to change without notice